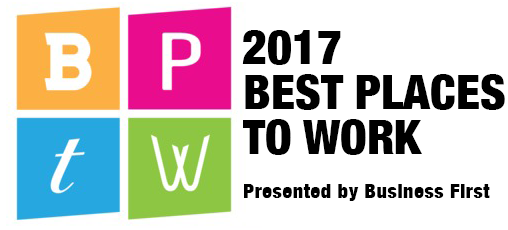 Alliance Cost Containment (ACC) is Recognized as a
"Best Place to Work" by Business First
LOUISVILLE, KY August 7, 2017 – Alliance Cost Containment, LLC (ACC), an industry leader in cost reduction services, has been awarded the Best Places to Work Award by Louisville's Business First. Last week's announcement ranks Alliance Cost Containment in the top 25 of all businesses in the Metro Louisville Area.
As quoted by ACC employees and shared anonymously on the Quantum Best Places to Work Survey, ACC has "a very supportive environment — everyone gets along and we have a great workflow, even when projects are demanding". It was also stated that "ACC is a needle in a haystack and I am very blessed to have stumbled upon such a great organization." ACC employees used the words "Flexible", "Positive" and "Challenging" most often to describe the environment at ACC's Headquarters.
"I am inspired everyday by the ACC team members, who have created a remarkable culture of respect, excellence and fun," said Miles Lee, CEO at Alliance Cost Containment. "It is an honor to work with this talented, motivated group of people who are re-writing the book on the role cost reduction should play in the world of business."
The award is based on anonymous survey responses given to all employees at the eligible company, in both multiple choice and essay form. 100% company-wide participation is required to be eligible. Overall, employees rated ACC 90.3 out of a possible score of 100, and rated the company's culture and unlimited time-off policy as what they viewed as outstanding. 96% of ACC team members would recommend the company as a great place to work to a friend or colleague.
"We are always on the lookout for talented people to join our team", said Janice Farish, Head of Human Resources at ACC. "But in addition to a candidate's job expertise, we try to imagine how their personalities will fit in with our company culture. This process has served our team well, and we wind up with a great group of people that work and play well together".
Alliance Cost Containment boasts a 0% employee turnover rate over the past 6 quarters and counting.
News of ACC's Best Places to Work Award accompanied other good news for the company. They were recently recognized by Greater Louisville Inc. as one of 6 finalists in the prestigious Inc.Credible Awards that focuses on companies that stimulate community growth and innovation, as well as ranking within nation's fastest growing private businesses for the Inc. 5000 Award, hosted by Inc. Magazine.
For information on career opportunities at Alliance Cost Containment, please write to [email protected] or visit alliancecost.com.
Contact: Kelly Gold
Alliance Cost Containment, LLC
[email protected]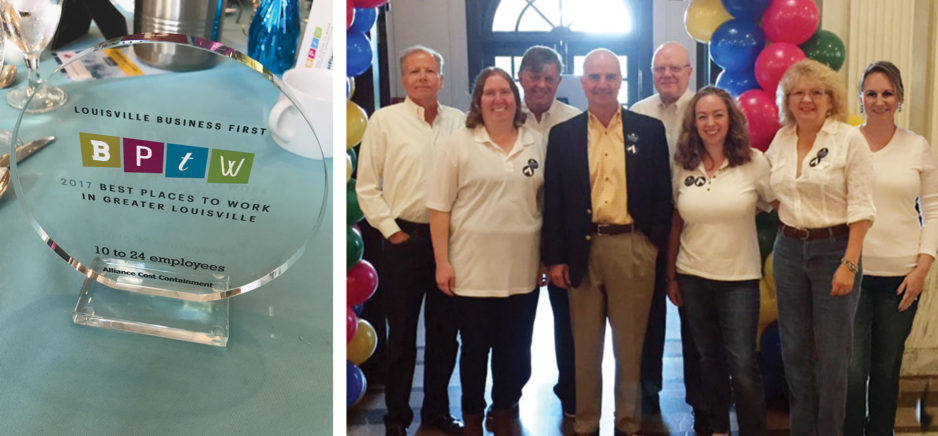 About Alliance Cost Containment, LLC
ACC is a leading provider of cost reduction services. They help clients raise their bottom line by leveraging market knowledge, e-RFP technologies, national purchasing agreements and unique subject matter experts. Importantly, ACC's approach also instills institutional behavioral changes and adherence to best practices. Clients realize impressive, sustainable savings, often reducing costs by 10% – 40% across 35 common expense categories.
In contrast with other firms, their model is performance based; clients pay only a percentage of the actual savings implemented on their behalf. This also means they take our ethics and transparency very seriously. There is no disruption to workflow and the time commitment from clients is minimal.
To inquire if an ACC engagement is right for your company, call +1-502-208-4565, or follow them on Twitter, LinkedIn and Facebook.