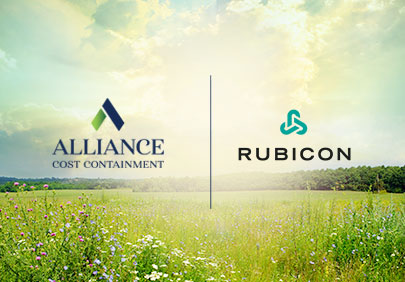 ACC & Rubicon Global Announce Partnership
Customers Benefit from More Cost-Effective, Eco-Friendly Waste Management
Alliance Cost Containment (ACC) is proud to announce a new partnership with Rubicon Global, the world's leading provider of cloud-based, sustainable waste and recycling solutions.
This groundbreaking partnership will enable ACC, a leading provider of cost reduction solutions in more than 35 indirect expense categories, to offer enhanced waste and recycling services to its national client base. Using proprietary technology and analytics, Rubicon empowers businesses to reduce the cost and environmental impact of their waste. The company has established relationships with a deep network of waste management providers across the U.S., Canada and Puerto Rico.
"Our partnership with Rubicon aligns perfectly with our commitment to lowering our clients' costs and improving their profitability with complete transparency," ACC CEO Miles Lee says. "Rubicon's unique combination of technology and depth of service will help our clients make their waste management more efficient and sustainable."
Rubicon's innovative model offers substantial benefits to ACC's clients, including:
Reduced operating expenses through service optimization, competitive sourcing and data analytics
More waste diverted from landfills through recycling and rebate programs
The ability to track key metrics to work toward long-term sustainability
"We're thrilled about the opportunity to provide ACC's customers with enhanced waste and recycling solutions," Rubicon CEO, Nate Morris says. "This partnership brings us closer to our goal of reducing waste costs for businesses everywhere while helping small businesses choose to be effective stewards of the environment."
Click Here to View the Official Press Release 
___________________________________________________________________________
About Alliance Cost Containment (ACC)
ACC provides cost reduction services that allow organizations to maximize operating revenue and save up to 40 percent in more than 35 common expense categories. ACC aggregates purchasing volume to provide buying power on a scale that most companies cannot achieve on their own. As a result, clients across a range of industries see impressive, sustainable savings. Learn more at www.alliancecost.com.
About Rubicon Global
Rubicon Global is the worldwide leader in sustainable, cloud-based waste and recycling solutions. Using its proprietary technology-enabled platform, the company provides comprehensive waste stream solutions that enable companies to reduce operating expenses and implement recycling programs. Rubicon's goal is to create a more sustainable solution for businesses and the planet. Learn more at www.rubiconglobal.com.