Growing Louisville Company Opens New NuLu Headquarters
Photo credits: Alliance Cost Containment
A Louisville company that works with businesses on cost reduction has a new home in the bustling NuLu neighborhood.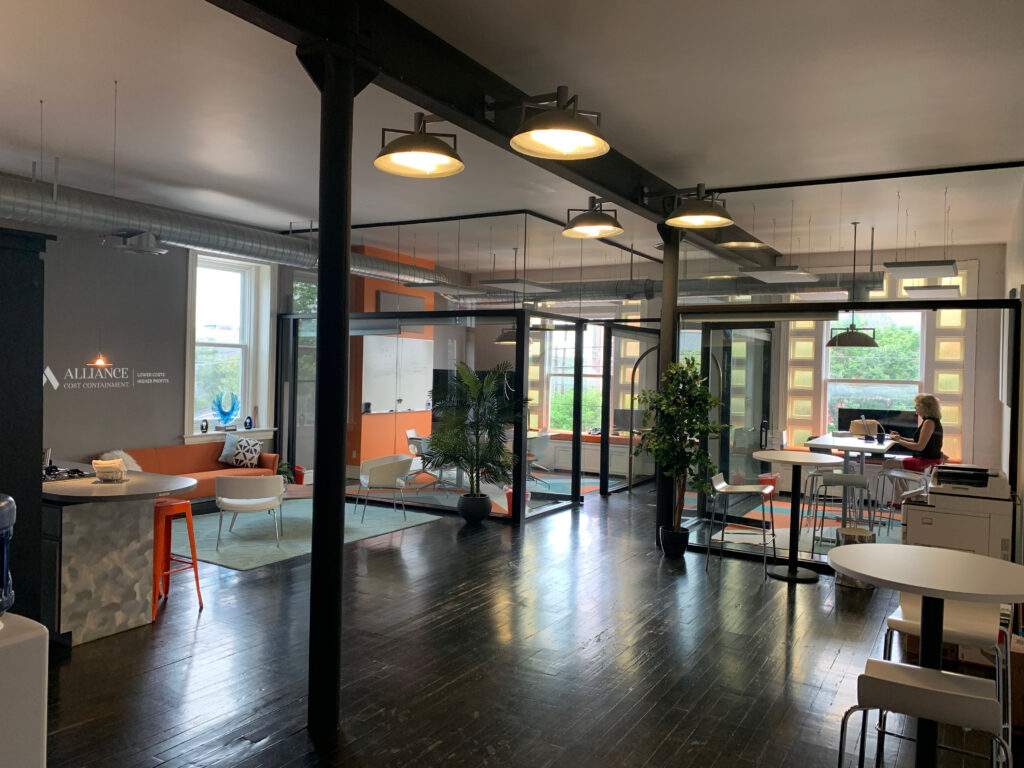 Alliance Cost Containment has leased roughly 5,700 square feet of office space at 802 E. Main St. and recently moved about 25 employees into the space.
The company is leasing the top two floors above the Quills Coffee Firehouse. Financial terms of the deal were not disclosed.
Sam Gray, E.P. Scherer, Sam English and Brent Dolen of Cushman & Wakefield/Commercial Kentucky represented both Alliance Cost Containment and the building's landlord, Main Street Firehouse LLC, on the deal.
Kelly Gold, director of marketing and business development for Alliance Cost Containment, said the company's local staff has been expanding and Alliance wanted to find a new home in or near downtown Louisville. Its previous 5,000-square-foot office was located at 10503 Timberwood Circle in Louisville's East End.
Gold said CEO Miles Lee took one look at the NuLu firehouse and knew it was the spot.
"There's so much more character (here) than our previous place," Gold said. "There's just a lot of interesting details, and just the history of the whole building. … It's a welcome change."
The space required minimal renovations to move in, and she said Alliance handled the work and the interior design internally.
The office, she added, features a lot of natural light, a communal space and kitchen area, conference rooms and a large outdoor patio. The company is working on signage installation.
"Quills being downstairs is a great plus because it's really great coffee," she said.
NuLu is in the middle of a significant building boom, and office users are starting to flock to the neighborhood for its walkability and slew of restaurants, apartments, hotels, retail shops and other amenities.
Louisville Business First reported in late May that Louisville technology company Virtual Peaker Inc. took about 2,700 square feet on the second floor of the NuLu Marketplace development spearheaded by Louisville businessman and real estate investor Mo Deljoo.
"The energy and charming environment of the NuLu office perfectly aligns with the ambitious growth of ACC and the talent we hope to attract to join our team," Lee said by email. "Additionally, the area's mix of restaurants, culture and easy access are beneficial for our semi-remote workforce."
By contrast, the company's former East End office was not located in an area where people could walk to restaurants and other businesses, and it didn't lend itself to the type of office layout afforded in the firehouse.
Alliance Cost Containment helps clients reduce costs with a multipronged consulting approach that includes institutional behavioral changes, contract changes, identified areas of savings and best purchasing practices.
In addition to Louisville, it also has offices in New York City, Cincinnati, Denver, Dallas, Indianapolis and an office serving the states of New Jersey and Pennsylvania, according to its website.
The company has been highlighted several times over the years for its growth and business approach. It has been recognized in Business First's Best Places to Work, Business of the Year and Fast 50 programs in previous years and also has made the Inc. 5000, which recognizes the fastest growing companies in the nation.
Also, Lee was named an LBF Most Admired CEO last year, the first year for the awards.