ACC's team of procurement experts is actively monitoring supply chain issues across expense categories to provide insights into likely cost fluctuation.
This illustration represents ACC's current thinking on the cost trajectory of key expense categories for June/July 2020.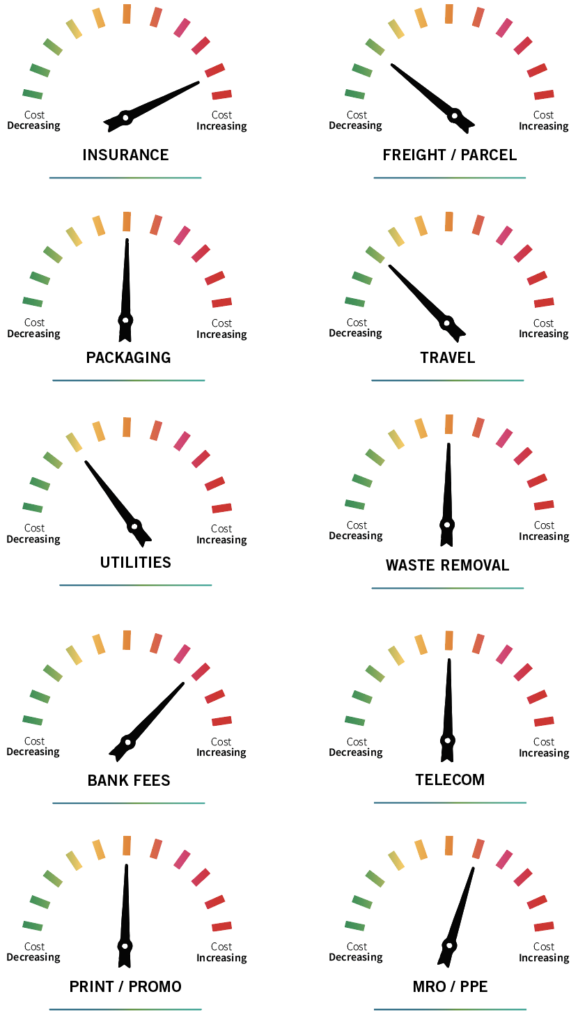 For a free savings assessment, contact Emmeline Wexer
Insurance
Premiums rising significantly for property and umbrella policies with more modest increases for auto policies; workers compensation rates stable .
Freight / Parcel
Market softness for spot truckload (TL) and less-than-truckload (LTL); parcel rates stable as these tend to be impacted by semi-annual cost adjustments by FedEX and UPS.
MRO / PPE
Primarily stable with the exception of safety supplies and equipment which has seen significant cost increases for personal protective equipment (PPE).
Travel
Overall softness as demand is still off by 80–85%; deals on airfares and hotel, rental car rates are fairly firm.
Utilities
Gas and electric rates down but this is somewhat typical this time of year and also impacted by factors besides COVID-19.
Bank Fees
Earnings credit rates (ECRs) on daily balances reduced significantly (negative impact); line item fees for disbursements, wire transfers, etc. are stable.