COST IMPACTS – Q4 2020
While many of these increases are Covid-19 related, some are simply due to general market dynamics. In many of these areas, there is an opportunity to mitigate rising costs by focusing on cost reduction activities.
Insurance
Increases in premiums have moderated over the past 90 days but remain higher than 2019 renewals for the same period.
Freight / Parcel
Prices for TL, LTL and Parcel have increased across the board. Over the past 90 days, many businesses have returned to normal capacity leading to increased volumes and rising costs. Parcel volumes are at record levels for this time of year, approaching, if not equal to, holiday peak periods. FedEx volumes are up 10% vs. one year ago; UPS volumes are up 21%.
Travel
Leisure travel recovered moderately throughout the summer months, but is still significantly below pre-Covid levels. Business travel is still down 80% and not expected to recover for some time.
Utilities – Gas and Electric
Higher than average summer temperatures have pushed up usage levels — and pricing — for both natural gas and electric powers. Expect continued cost increases for both areas as businesses & manufacturing return to full capacity.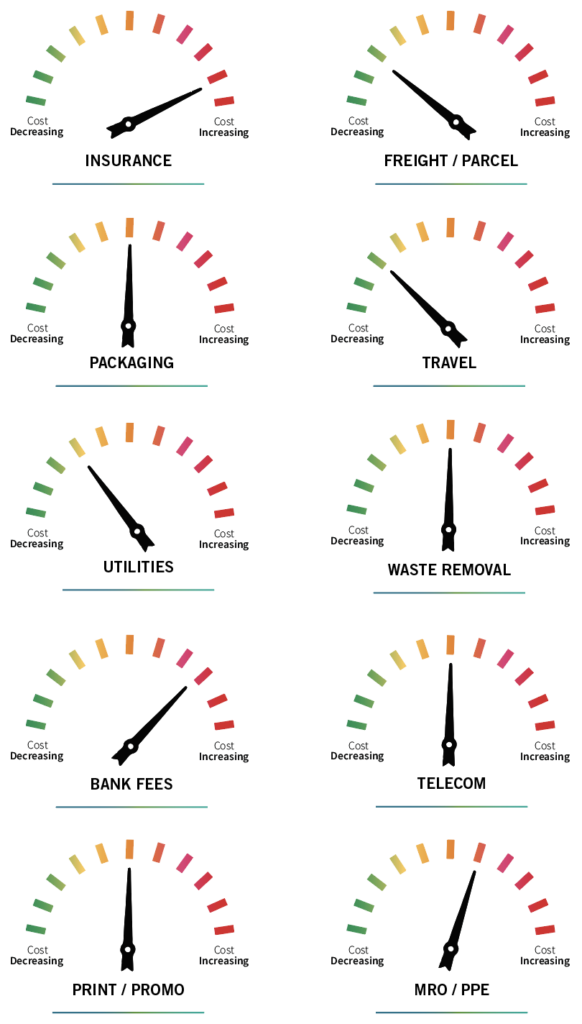 Contact us for a free custom savings assessment